GASME News
Mr. Carlos Magariños Released a Report on China's Financial Reform & SMEs Development in Beijing
The report of Financial Reform & SMEs Development in China: Unleash Growth Potential through Innovation and Entrepreneurship written by Mr. Carlos Magariños, Former UNIDO Director-General and Global Chairman of GASME was published in Beijing on August 2, 2015. The release ceremony of this report was held in Chongyang Institute for Financial Studies, Renmin University of China. Mr. Magariños, fellows of RDCY and other experts and scholars attended this release ceremony.
In the release ceremony, Mr. Magariños began with an introduction to the main content of the report. He pointed out that the main purpose of this paper was to identify instruments, tools, vehicles and regulatory reforms to strengthen the link between financial markets and small and medium enterprises in China as well as to support entrepreneurship development. In the report, Mr. Magariños discussed the relevance of maintaining the focus on acquiring technological leadership as well as the importance of further promoting a vibrant business community ready to unleash growth potential, multiplying its presence in capital markets. He suggested to strength the ongoing financial reform process with regard to entrepreneurship and SME development, because it was an effective way to further improve the correlation between technological progresses, value added, job creation and income levels. By means of this, the "sound society" with inclusive finance could be built.
This report took more than half a year to complete and got high evaluation from experts and scholars from all over the world participating in the release ceremony.
Gusts participating in the release ceremony like Mr. John Kirton, Co-Director of G20 Research Group at University of Toronto, Non-Resident Senior Fellow of RDCY; Mr. Carl Dahlman, Head of Global Development Research at OECD's Development Centre; Mr. Antonio Villafranca, Deputy Director and Head of European Programme, ISPI (Italian Institute for International Political Studies), Non-Resident Senior Fellow of RDCY; Mr. Diego Castrillon Dioses, Executive Director of Foresight 2020 etc., gave comments and suggestions on the report combined with their own research.
Combined with this report, Mr. He Weiwen, Vice Chairman of GASME, Former Economic and Commercial Counselor at Chinese Consulates General in San Francisco and New York, Senior fellow of RDCY put forward that the society should encourage small and medium-sized enterprises to participate in the value chain of global production and form a full competition with large enterprises in order to improve their own competitive power.
The other guests participated in the release ceremony including Professor Guo Jie, School of International Studies, Peking University; Ms. Hu Haibin, Chief Editor of Information Center of RDCY; Ms. Liu Ying, Director of Cooperative Research Department of RDCY; Mr. Chen Xiaochen and other fellows of RDCY.
Before the release ceremony, Mr. Carlos Magariños was invited as a keynote speaker in Global Governance and Open Economy: 2015 G20 Think Tank Summit held by Renmin University of China. This was the third time Mr. Magariños attended this summit.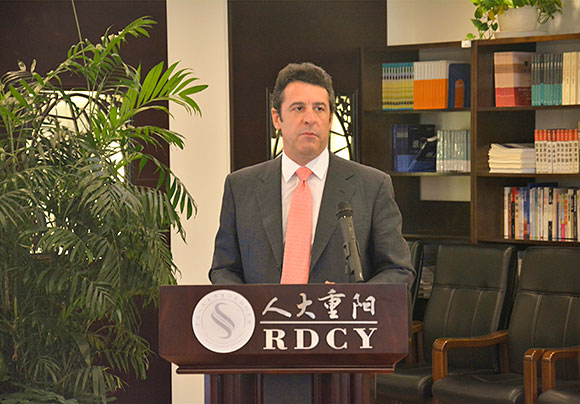 Mr. Carlos Magariños releases the report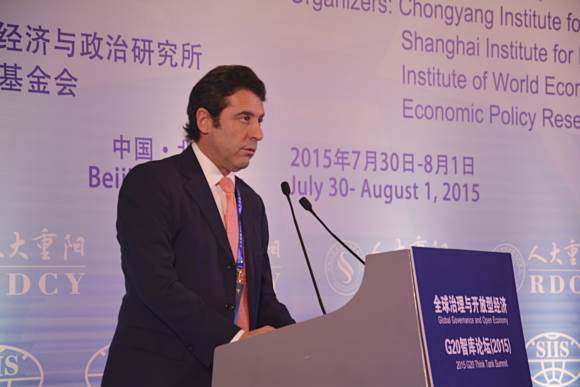 Mr. Magariños delivers a keynote speech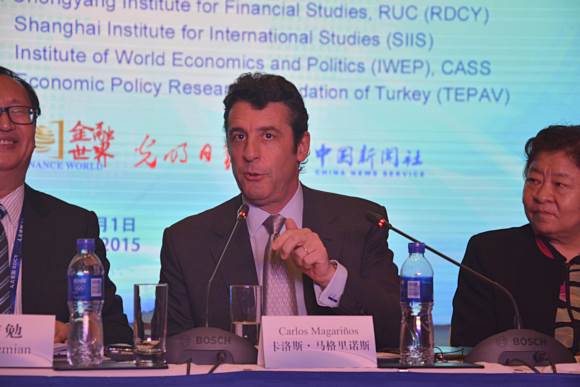 Mr. Magariños exchanges views with the guests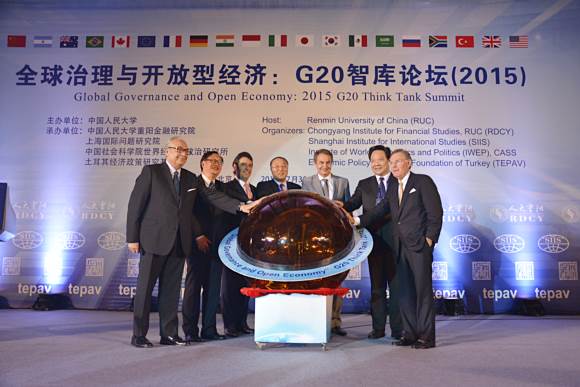 Group photo of VIPs in 2015 G20 Think Tank Summit