European Union
UAE's Natural Gas
According to OGJ, the UAE's proven natural gas reserves were 214 trillion cubic feet (Tcf) as of January 1, 2007. UAE holds the fourth largest proven natural gas reserves in the Middle East after Iran, Qatar, and Saudi Arabia. (See Iran, Qatar, and Saudi Arabia Country Analysis Briefs) The largest reserves of 198.5 Tcf are located in Abu Dhabi. Sharjah, Dubai, and Ras al-Khaimah contain smaller reserves of 10.7 Tcf, 4.0 Tcf, and 1.2 Tcf, respectively. In Abu Dhabi, the non-associated Khuff natural gas reservoirs beneath the Umm Shaif and Abu al-Bukhush oil fields rank among the world's largest.
Rising energy prices have put a new emphasis on the UAE's large natural gas reserves even though high extraction costs and sulfur content pose difficulties for the industry. In 2005, the UAE produced 1,659 Bcf and consumed 1,457 Bcf. The UAE imported 49 Bcf and exported 252 Bcf in 2005. Recent developments linking processing facilities, internationally and domestically, will promote the use of natural gas for generating power, desalinization, and injection for oil fields. The Dolphin project is a partnership to import natural gas from Qatar, the second largest natural gas holder in the region, is the most prominent development in the UAE natural gas sector in the past year.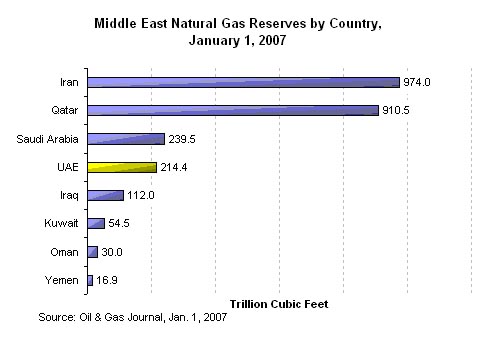 Increased domestic consumption of electricity and growing demand from the petrochemical industry has provided incentives for the UAE to increase its use of natural gas. Over the last decade, natural gas consumption in Abu Dhabi has doubled, and it currently stands at around 4 billion cubic feet per day (Bcf/d). The development of natural gas fields also results in increased production and exports of condensates, which are not subject to OPEC production quotas. Dubai's natural gas consumption has been growing by nearly 10 percent annually due to expansion of the emirate's industrial sector, a switch to natural gas by its power plants, and the need for an enhanced oil recovery (EOR) system based on natural gas injections in mature oil fields. In June 2007, Oil Minister Hamli stated that as much as 50 percent of UAE natural gas was used for power generation in the summer months.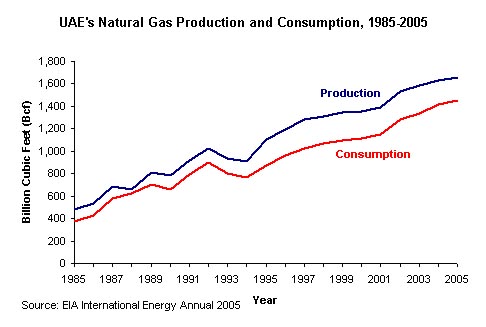 Liquefied Natural Gas (LNG)
The UAE set up its first LNG plant in 1977 on Das Island operated by ADGAS. The plant is run on associated natural gas from the Um Shaif, Lower Zakum, and Bunduq oil fields. LNG exports to Japan reached 259.6 Bcf in 2005, followed by 10.9 Bcf to Spain and 2.8 Bcf to South Korea.
Sector Organization
UAE natural gas exports are managed by an ADNOC subsidiary, Abu Dhabi Gas Liquefaction Co. (ADGAS), and is limited to LNG and liquids. The National Gas Shipping Company (NGSCO) handles the shipments from the LNG plant, and operates eight LNG carriers. The principal contract is with Tokyo Electric Power Company (TEPCO), and dates back to 1977.
Pipelines
In the past year, the UAE's natural gas sector has been working with numerous countries and companies on pipeline development. One potential pipeline from Iran, the region's top holder of natural gas reserves, was stalled due to price negotiations. Domestically, ADNOC distributes natural gas in Abu Dhabi, and is planning to build two natural gas distribution networks for Abu Dhabi and al-Ain with over 2,173 miles of pipelines to supply industrial and residential needs. GASCO, manages 869 miles pipeline network in Abu Dhabi which supplies oil fields, power plants, and petrochemical facilities. Within the Arab Gulf, the Dolphin Project is the most significant development in the sector this year. The overall volume of natural gas transported to and within the UAE will rise dramatically as the UAE's natural gas consumption rises.
Dolphin Project
The difficulties of extracting natural gas in the UAE led to the development of the Dolphin Project, an agreement to import natural gas from Qatar's North Field, the world's largest natural gas deposit, to Abu Dhabi and then Dubai. The managing company, UAE Mubadala Development Company, holds a 51 percent stake in Dolphin Energy with France's Total and U.S. Occidental Petroleum Corp. sharing the remaining stake at 24.5 percent each. The project will supply 2 Bcf/d of natural gas from Qatar to the UAE and Oman by the end of 2007 according to Dolphin Energy's Chief Executive Officer Ahmed Ali Al Sayegh. (See Oman Country Analysis Brief)The $3.5 billion pipeline is the first cross border natural gas line in the Gulf Arab region, and will help UAE meet its energy demand. It consists of a 48-inch subsea export pipeline running 226 miles from Qatar to Dolphin's receiving facilities at Taweelah in Abu Dhabi. From there the natural gas will be distributed by landline to Dolphin customers. The first natural gas imports were successfully tested in March 2007, and the first commercial shipment is scheduled for July 2007.
Exploration and Production
Minister of Energy, Dhaen Al Hamli, has stated that the UAE will increase production of natural gas by 33 percent by the end of 2008. The Thamama formation in Abu Dhabi is the third phase of the Onshore Gas Development (OGD) to bring 1.2 Bcf/d of natural gas from the Thamama F reservoir at the Bab field by 2008. Shell and ExxonMobil are also involved in technical studies for natural gas development at Shah and Bu Hasa respectively. High energy prices have led to further interest in sour natural gas development from both the majors and newcomers to the UAE. At least five international energy companies submitted bids in April 2007 for giant sour natural gas projects.