Foreign Direct Investment (FDI)
Foreign direct investment (FDI) is an integral part of the Korean economy. The number of foreign-invested companies in Korea has increased exponentially over the last decade or so. In 1997 the number was less than 2,000, but it reached 14,000 as of 2010. They now account for 13 percent of sales, 12 percent of all exports and 6 percent of employment in the manufacturing sector.
Since the onset of the financial crisis in 1997, the Korean government has been active in its efforts to attract foreign direct investment to Korea; passage of the Foreign Investment Promotion Act in 1998 greatly facilitated these efforts. The Act opened up 99.8 percent of Korea's industries to foreign investment and provided significant protection for investors' interests. Under the Act, foreign investors also receive incentives including tax breaks, cash grants and affordable land.
To make Korea a more business-friendly country, the government has established a comprehensive action plan to improve the foreign investment environment; the plan is subject to review every three years. The Ministry of Knowledge Economy is taking the lead in implementing the plan in cooperation with 11 other ministries and eight government agencies.
From 2008-2010, Korea made numerous achievements. Corporate taxes were reduced; a new system has been introduced to better protect intellectual property rights; administrative procedures have been streamlined, making it easier to establish an industrial complex; the maximum amount of foreign capital that can be lent or borrowed without the need to report the transaction has been increased; and international financial reporting standards have been adopted. At the same time, the living environment for foreign business people has improved dramatically there are more educational and healthcare facilities equipped to meet their needs, a more convenient processing system at customs for foreign business people living in or visiting Korea as well as more English-friendly services.
Many foreign-invested companies are conducting successful business in harmony with the Korean economy. The British retailer Tesco has done remarkably well in Korea. Tesco's Korean operations make up a third of the retailer's overseas sales. Another example of successful foreign investment is Standard Chartered First Bank (SC First Bank). Having first entered the Korean market in January 2005 following its US$3.3 billion acquisition of First Bank, SC First Bank has now become the largest foreign investor in Korea's financial sector. SC First Bank accounts for one-fifth of the Standard Chartered group's total assets. An additional US$900 million has been injected into the bank since 2005. SC First Bank's importance is evidenced by the fact that it is the only entity in the entire group that reports directly to the CEO of Standard Chartered - but those are just a few of the success stories.
Foreign Direct Investment (FDI)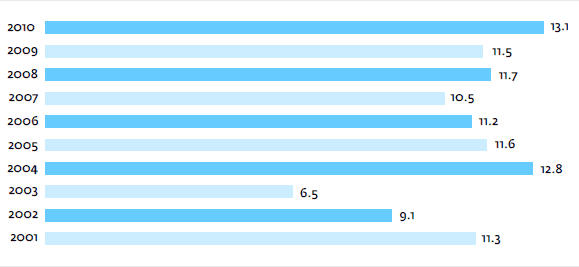 Unit: US$ billion
Foreign direct investment received by Korea in 2010 rose to US$13.1 billion, up from US$11.5 billion in 2009, and the country aimed to attract US$15 billion in 2011. There is growing interest by investors in R&D facilities, logistics centers and regional headquarters of multinational corporations. There is also much interest in Korea's highly developed electronics sector from parts and materials companies.
Korea has several strengths as an FDI destination. Korea occupies a strategic location within East Asia. The East Asian region is home to two-thirds of the world's population, produces one-fifth of the world's goods, and exhibits some of the world's highest economic growth rates. East Asia is expected to become the world's largest market and production center and the principal growth engine for the world economy. There are more than 61 metropolitan cities with populations of at least 1 million within a three-hour flight radius of Seoul. That makes Korea a gateway to an incredible array of promising investment destinations in East Asia. Companies can easily expand to overseas markets after using Korea as a test bed platform. Already more than half of the Fortune 500 companies have a presence in Korea.
Number of Researchers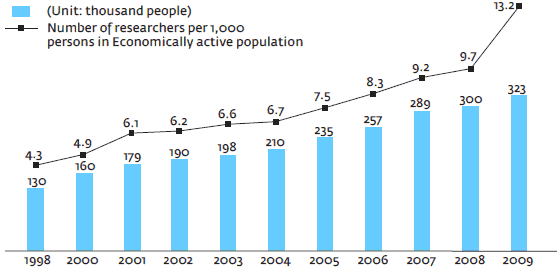 Korea is home to some of the world's most successful industries. These include automobiles, steel, shipbuilding, semiconductors, displays and IT. Not only that, but Korea's construction companies are doing extremely well overseas. Audiences throughout the wider Asian region enthusiastically welcome Korean dramas and pop songs. And Korea's online gaming industry is now the second largest in the world. Clearly, investing in Korea's advanced and rapidly growing industries is a wise choice for the future.
Korea is one of the most active countries in terms of pursuing FTAs with large economic blocs. Korea and the United States have already struck a deal, which is awaiting ratification in the legislatures of both countries. An FTA with the European Union has been rarified, and we are getting ready to begin negotiations with China and Japan. Korea's active pursuit of FTAs will help foreign investors based here to do business more effectively in the world market.
Also among Korea's greatest strengths are its excellent pool of human resources and its optimal business environment. Koreans' passion for education is well known throughout the world, and Korea produces more than 100,000 science and engineering graduates every year. Also, Korea boasts the highest Internet penetration rate in the world thanks to its ubiquitous Internet presence.
Underscoring the importance of investment to the nation's future, Korea is determined to do all it can to accommodate investor needs. For this, Korea is making efforts to improve the business environment for foreign investors. Invest Korea Plaza (IKP) is a good example of those efforts. It is the first business incubation complex in Korea for foreign investors.
The Seoul Global Center, opened in January 2008, provides multilingual administrative assistance for foreign businesses. Designed to meet 21st century business needs, IKP offers furnished office and cutting edge conference facilities, in addition to on-site comprehensive services ranging from investment consultation provided by representatives of Invest KOREA and numerous government agencies to orientation programs on Korean business culture and information on daily living in Korea, all in a dynamic international business environment.